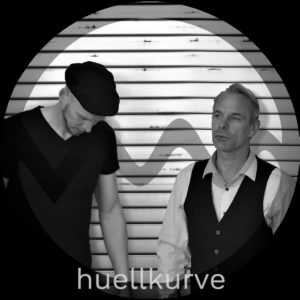 Huellkurve, the unequivocal duo from Berlin is a live techno act consisting of Kay- Uwe von Kiedrowski and Arne Janz.
In the early 90s, Kay-Uwe became addicted to electronic music and spent most of his nights dancing in Berlin's techno clubs, which pushed him to start DJing at parties in his home village Werder and in smaller clubs in Potsdam.
Arne – a good ten years younger, jokingly calling Kay as grandpa – used to live in the sleepy Einbeck at that time and was a teenager experimenting with psychedelic rock with his electric guitar. His attention, however was already focused on the trippier and broken sound of goa and drum and bass.
In 2002 Arne, now living in Potsdam, moved into his first studio, while Kay – whose studio was in the same building – just moved out. They met by chance in the hall and started chatting about music – they immediately found each other sympathetic, arranged to jam and from then on played together in a kraut-rock band until 2008.
During this time they increasingly began to integrate effect devices into their setup to bend the sounds of classical instruments into psychedelic textures. These elements mixed with fat bass and a driving percussion are major elements in the tracks of their current project Huellkurve.
In the years following the break-up of the kraut-rock project in 2008, the two have largely lost sight of each other and independently discovered synthesizers and the associated possibilities of sound generation through subtractive synthesis.
After an accidental meeting in 2016 they've decided – driven by the euphoria of reunion and their fascination for hardware synthesizers – to meet again for a jam and to go on a musical discovery journey like in the past – Huellkurve was born. Their first performance followed in 2017 at an open stage in Berlin.
In the beginning, they mainly played 'heavy ambient' in the form of classical concerts. In the course of time, however, they increasingly developed their sound towards the dance floor, where they now interweave their exclusively self-produced tracks and sound fragments into live sets.
Huellkurve sees itself as a techno formation whose concept is to play live without the use of computers. They exclusively use hardware synthesizers, sequencers, and effect devices, which leads to an enormous amount of equipment but also allows them to access all sound parameters directly at any time as well as to interact with the audience in a special way.
They are constantly on an acoustic voyage, producing new sounds and tracks they then use as a framework for their live sets – arranging them differently and interpreting them live. Stylistically they move somewhere between techno and electro, mixed with trance and house elements, flavoured with a pinch of acid.
Make sure to check out the newest track from Huellkurve on Soundcloud: